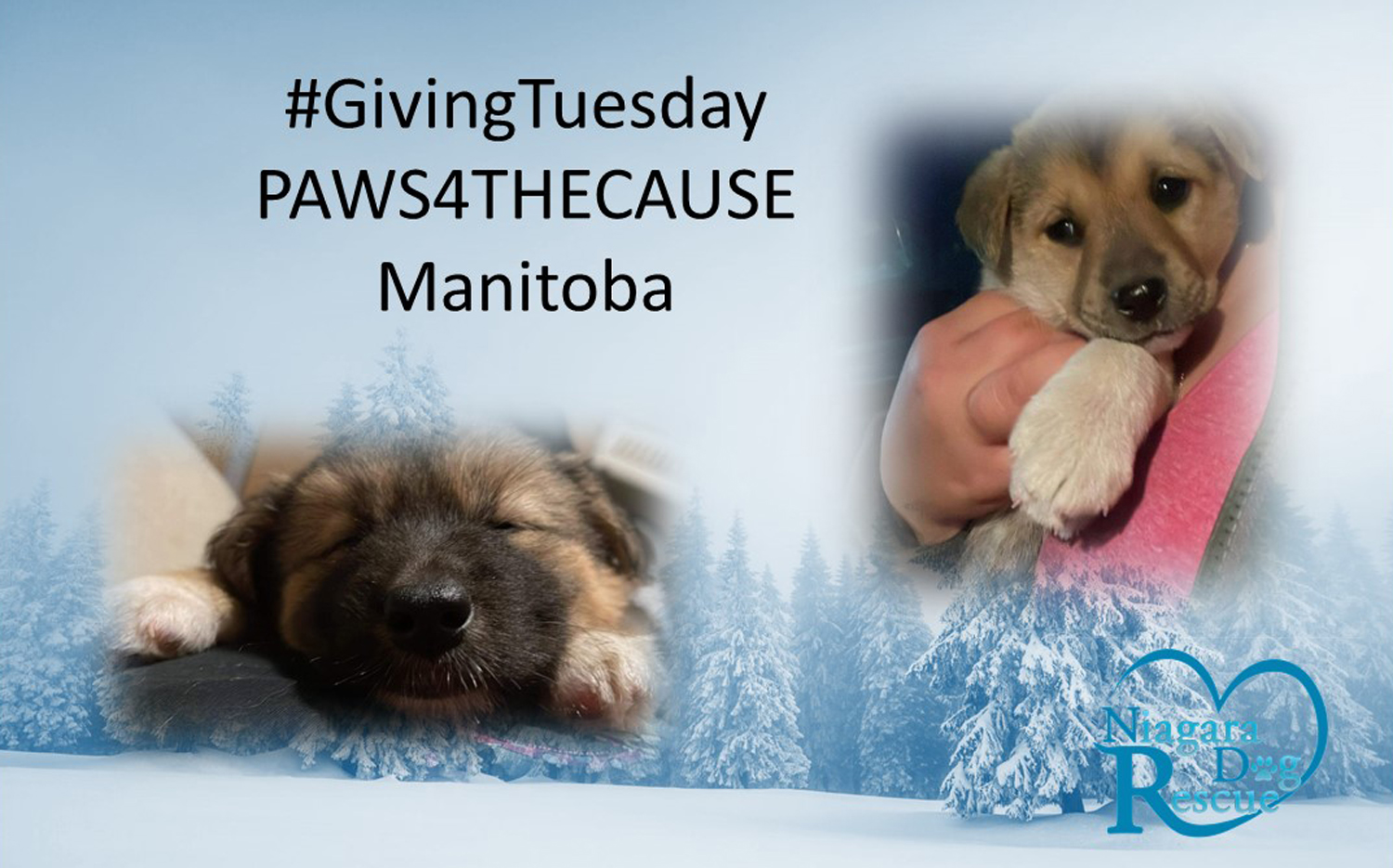 Urgent! Manitoba Dogs Need Your Help #GivingTuesday
We are excited to announce our #GivingTuesday campaign: PAWS4THECAUSE: Manitoba.
Although Giving Tuesday is a few weeks away, we have decided to kick off our campaign now and here's why.
On November 7, a team of our very dedicated volunteers will be making the arduous journey to Manitoba. It will be a road trip for the sole purpose of rescuing some of the many homeless, abandoned and unwanted dogs from the northern communities. As part of our support for the community, we will be taking donations such as toothbrushes, toothpaste, school supplies, ChapStick, warm socks-kid sizes, markers, crayons, colouring books and dog food. If you would like to donate some of these items, we have drop off locations in St. Catharines, Etobicoke, and Oakville.
Please reach out to gwenleongndr@gmail.com with any inquiries.
There is an enormous overpopulation problem in the northern communities of Manitoba. So many dogs are running loose, abandoned or being neglected. There are many injured dogs and no veterinary clinic anywhere nearby. The community does not have the resources to spay/neuter or care for their dogs. Frequently the dogs in need are pregnant moms, and moms with their puppies. The lifespan of a northern dog is some communities is below 1.7 years. When winter comes, many will freeze to death.
Niagara Dog Rescue works in harmony with the communities we help. As well as rescuing as many strays as we can, we will also take any owner surrendered dogs. The residents of the communities are heavily involved and no dog is ever taken without consent.
This will be an experience like no other for our volunteers. Once in Winnipeg, they will meet with volunteers from Manitoba Animal Alliance, an amazing group of people who help the Manitoba stray dog population. The combined group of volunteers will then continue to The Pas. All our supplies (crates, food, donations) will be transferred onto a train. A day's trip by train will bring them to Pukatawagan Cree Nation, their final destination. This is where they will collect and care for the dogs. Once the dogs are in crates on the train, they will be travelling back to The Pas. There is an animal care building there and with the assistance of more volunteers, the dogs will be well taken care of. Then the drive continues back to Winnipeg where our volunteers will rest before beginning the 24 hour road trip back (with plenty of rest breaks for our precious canine cargo). We are hoping to bring back as many as 40 in-need dogs. One of our volunteers will fly back with 3 dogs as there will be limited room in our vehicle.
These dogs desperately need help and Niagara Dog Rescue desperately needs your help in order to save them. We are asking for your assistance to help us rescue these sweet and innocent souls. This trip will come at a considerable cost. We need your support! It is only with your help that we can save these dogs from horrendous circumstances and certain death. We are running our #GivingTuesday campaign for the month of November. Will you help our Manitoba dogs by donating today? Every dollar counts!
Not able to donate? Help us by spreading the word to your friends, family, and fellow dog lovers! Follow us on social media for cute photos and updates on our Northern Manitoba adoptable dogs.
Please Help Us By Donating What You Can Below
Thank you to
our partners!
We couldn't do what we do without the
wonderful ongoing support from our
community partners. We encourage
all of our supporters to also
support our partners however
you're able!