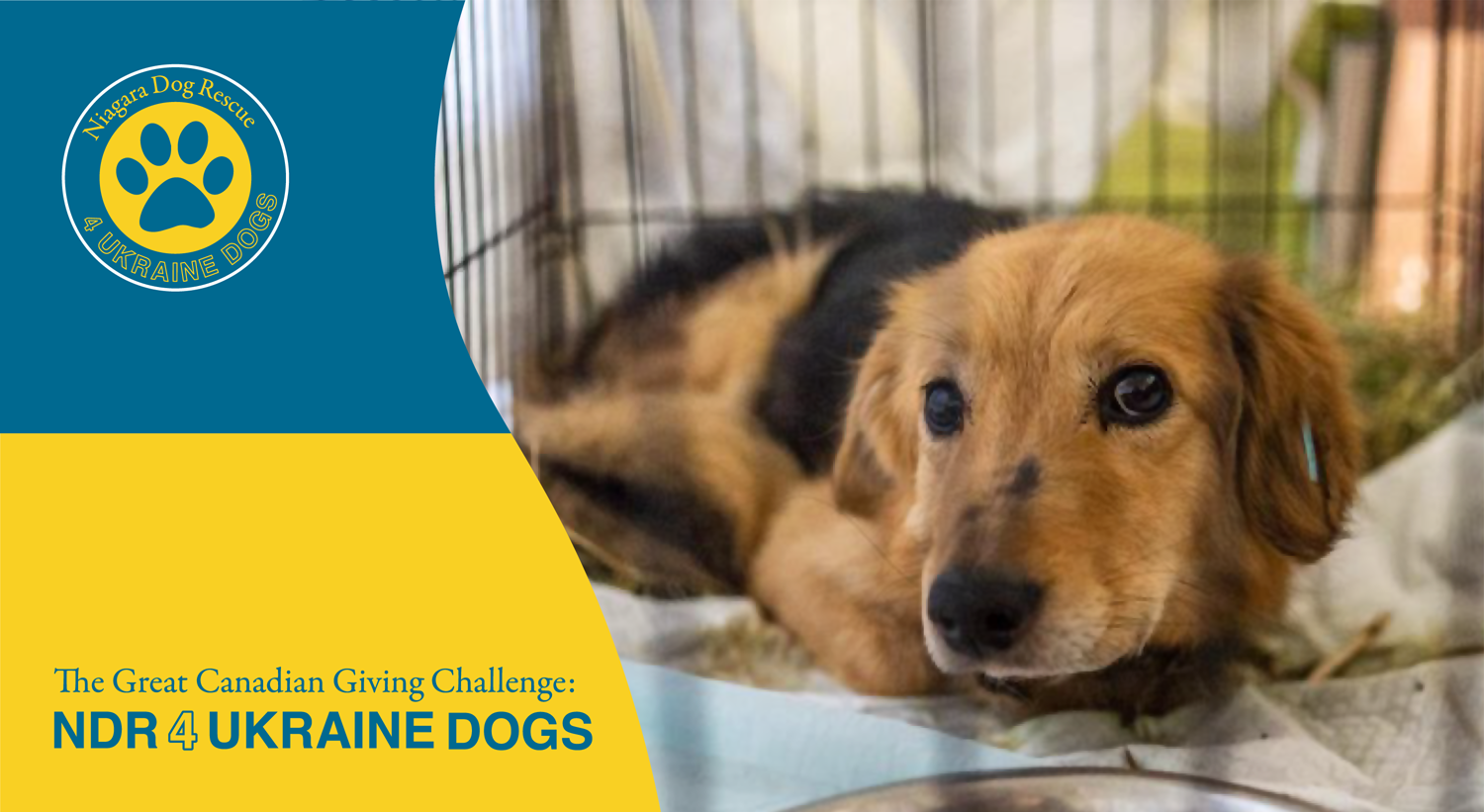 The Great Canadian Giving Challenge: NDR 4 Ukraine Dogs
The Great Canadian Giving Challenge is here, friends! And this will be our biggest, and most challenging, initiative to date.
We need your help more than ever.
The Russian invasion of Ukraine has created an unprecedented humanitarian crisis. The war has caused Europe's fastest-growing refugee crisis since World War II, with more than 6.7 million Ukrainians fleeing the country and a third of the population displaced. With all this turmoil, what has happened to Ukrainians' beloved pets?
Apparently there are large numbers of dogs—who have been separated from their families—roaming the streets. These pups are confused, traumatized, and in desperate need of help. In one of the first reports of Russians targeting civilians, a German shepherd was found in a ditch, cowering beside the body of its owner. As troops withdrew from Kyiv, it was reported that the Russians were shooting dogs, goats and horses, for entertainment. When the Russian soldiers pulled back from nearby Borodyanka, over 300 dogs were found dead at an animal shelter.
What can we do?
While we currently have many dogs in NDR's care, we knew there was little choice: we had to help the suffering dogs in the Ukraine as well. So, we began doing research, a painstaking quest for information that left us emotionally drained, as the horrific news and images of cruelty are relentless. Between the time difference, language barriers, and chaos in the Ukraine, simply getting information was an incredibly difficult task.
But at NDR we don't give up on dogs, and so we persevered!
NDR is proud to team up with Transform A Street Dog (TFASD) for this giving challenge. Since 2018 TFASD has been on the ground in Kyiv, Ukraine supporting independent animal rescuers and rescuing homeless animals. Due to the war, they've switched gears to organize mass evacuations of dogs to other countries, facilitating their escape and giving them a chance to get adopted.
Mandy Allen, Co-founder & Executive Director of TFASD, has highlighted the Borodyanka area as an urgent one, where dogs were trapped for 5 weeks with no food and water. Many dogs perished waiting for rescuers to arrive, Mandy said, as rescue efforts were thwarted by the mass destruction. NDR has committed to supporting pet owners, abandoned pets, abandoned shelter dogs and street dogs that have been affected by the senseless Russian invasion, starting with those in Borodyanka. As you can imagine, bringing these Ukrainian dogs to Canada will be a very costly endeavour, which is why we're asking for your help.
Please donate today to support Ukraine dogs with our Great Canadian Giving Challenge. As a bonus, every dollar donated online to NDR in the month of June earns us a chance to win the $20,000 grand prize from Canada Helps! These funds will be used to aid the Ukraine dogs, and if we raise more than needed, remaining donations will go to the area of greatest need.
These dogs are in dire need of our aid and care. Your gift—every dollar counts—will give these good pups what they deserve most: the safety of a home, and the love of a family.
Please Help Us By Donating What You Can Below
Thank you to
our partners!
We couldn't do what we do without the
wonderful ongoing support from our
community partners. We encourage
all of our supporters to also
support our partners however
you're able!